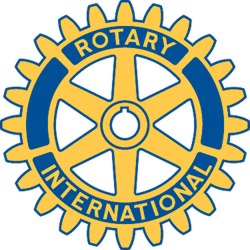 Rotary Club of New Bedford, MA - Weekly GAM
GAM...A nautical term describing the exchange of news between vessels departing from and returning to their ports...
October 9, 2019
The Last Time We Met
"They" say the best laid plans… Bag stuffing has be postponed due to receiving the wrong type of bag for the project. The good news was we were finally able to induct Wyndell Waldon from the Narragansett Boy Scouts of America. But, if you follow the club on Facebook, you already knew that. Welcome aboard Wyndell.
Missed the last GAM? You can check it (or any past issue) out at
http://newbedfordma.clubwizard.com/NewsletterArchive.cfm
VISITORS AND GUESTS: Just us again.
The Next Time We Meet
October 13th - Annual Chowder Festival. Noon to 5pm, Pier 3
October 16th – Lunch at the Wamsutta. OVERNIGHT BAG PROJECT – we will be filling overnight bags to be donated to Child and Family Services (this was postponed).
UPCOMING EVENTS: What would you like to see at a Rotary meeting? Let us know.
October 23rd – Lunch at the Wamsutta. Program TBA
October 24th – World Polio Day
October 30th – Lunch at the Wamsutta. Program TBA
November 5th – Monthly board meeting. 5:00 pm FSI, Dartmouth. All are invited.
November 30th - Annual New Bedford Rotary's Breakfast with Santa. See article below. SAVE THE DATE
Odds and Ends
BREAKFAST WITH SANTA UPDATE FROM MARC
Hi Fellow Rotarians,
Our Breakfast with Santa will be held on Saturday, November 30, 2019, at the New Bedford YMCA. Rick Kidder, President of the Southcoast Chamber has agreed to be contact Santa again. There will also be pictures with Santa and crafts for the children; and a nice catered breakfast.
Forms are available to be used for the Gold Sponsors and other contributors who purchase placemat ads. We really need your support for this Event.
Gold Sponsorships are available for $200 and include an ad on all the placemats, listing on a poster at the Event, mention in any publicity, and tickets for two families of four which can be donated to local charities in your name. Please also let me know if you are aware of any organizations that can use donated tickets for children and their families to attend the Event.
Placemat ads (business card size) are $25 each on a placemat design (appearing on around 20-25 placemats); or be on all 6 placemat designs (appearing on up to 120-150 placemats) for $130 (and also includes one adult and one child ticket for the Event). This is great for businesses and other people to support the Club.
Individual tickets are available for sale: $10 for adults, $6 for children, under 3 are free. Do you know any families with small children that would like to attend?
We can use help on the day serving food, cleaning tables, working with Santa or in the crafts room.
Thanks and best regards,
Marc
STILL LOOKING FOR OFFICERS
The club still is looking for candidates for president-elect and vice-president. The vice president will become president-elect the next year, and the president-elect becomes president. Please let Prez John know if you are interested.
VIBRANT CLUB WORKSHOP Oct. 26 (Taken from the district newsletter)
A "vibrant" Rotary Club is one that's growing (or at least not shrinking), that's known all over town for its community service, that does its share to support International Service and that embraces change. The district is offering a workshop on Saturday October 26th, 8:00 AM – 1:30 PM – to help your club in those areas and more. Also being offered is a Foundation Grants Seminar. All Rotarians will find useful information and inspiration at this event. Registration opens at 7:30AM. Location is Whites of Westport, 66 State Rd, Westport, MA. You can sign up now at www.Rotary7950.com. We have reduced the cost of this event to only $20 per person Including Continental Breakfast and boxed lunch.
FOUNDATION DINNER Nov. 14 (Taken from the district newsletter)
Our District's annual Foundation Celebration Dinner is scheduled for Thursday November 14th at Whites of Westport. Guest Speaker for the evening is Past Zone Director and current Rotary International Polio Plus Chairperson Michael McGovern. Michael's presentation on where we have been, where we are and where we are going with Polio will be enlightening and totally enjoyable for all. Also planned is a recognition of Major Donors and the annual Foundation Awards Presentation. Cash Bar begins at 5:30 PM with the Celebration Dinner beginning at 6:00 PM. Cost is $50 per person. Registration is open at www.Rotary7950.com
DISTRICT AND RI REMINDERS (if you are interested in attending any of these, please ask a board member for more information as some events the club will sponsor members to attend)
- WORLD POLIO DAY, October 24, 2019
- VIBRANT CLUB WORKSHOP, White's of Westport, October 26, 2019
- P-BRUINS ROTARY DAY FOR POLIO, Providence, RI, November TBA
- FOUNDATION DINNER, White's of Westport, November 14, 2019
- RLI SEMINAR - Districts 7910, 7930, 7950, January 25th 2020, Marlborough, MA https://rlinea.org/ The Rotary Leadership Institute (RLI) is a multi-district, grassroots leadership development program. All members are welcome.
- DISTRICT 7950 MID YEAR MEETING, Presidents and Presidents Elect, White's of Westport, February 8, 2020
- NORTHEAST PETS, Presidents Elect & AGs, Sheraton, Framingham, MA, March 5-7, 2020
- INTERNATIONAL NIGHT, Celebration of Youth Exchange, White's of Westport, April 6, 2020
- DISTRICT ASSEMBLY, Secretaries, Treasurers, All Rotarians, White's of Westport, April TBA 2020
- DISTRICT CONFERENCE, Cape Codder, Hyannis, May 1-3, 2020
- ROTARY YOUTH LEADERSHIP AWARDS (RYLA), Sea Camps, Brewster, May 16-18
- ROTARY INTERNATIONAL WORLDWIDE CONVENTION, Honolulu, Hawaii, June 6-10, 2020 https://www.riconvention.org/en
- INSTALLATION OF DG CHARLENE JAREST, White's of Westport, June 26, 2020 In combination with the Rotary Club of Fall River Installation. Our good friend Charlene would love to see us there.
NEW BEDFORD ROTARY ON SOCIAL MEDIA
Don't forget to Like, Follow and whatever else folks do with pages they like on Facebook. Check us out at www.facebook.com/Rotary-Club-of-New-Bedford-157486620934253/
One More Thing – An Orren Classic – From his 1939 edition of "10,000 Jokes, Toasts and Stories"
Two fathers of sons in college were comparing notes.
"My son's letters always send me to the dictionary", said Dad #1.
"You're lucky," said Dad #2 - "My son's letters always send me to the bank!"
Sandy B.
GAM Contributor
Peter A
GAM Editor