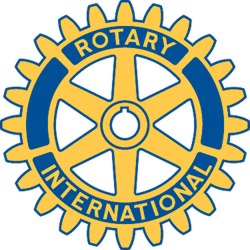 Rotary Club of New Bedford, MA - Weekly GAM
GAM...A nautical term describing the exchange of news between vessels departing from and returning to their ports...
August 7, 2019
The Last Time We Met
The club awarded scholarships to seven students, four of whom attended or were represented at the luncheon. One of the recipients was a graduate of New Bedford High School, four were graduates of Greater New Bedford Regional Voc-Tech, and two were graduates of Global Learning Charter School. The students will be attending UMass-Dartmouth (2), Stonehill, Regis University, Clark University, New England Institute of Technology, and Worcester Polytechnic Institute. Generally we don't name the recipients in our newsletters but one was Michael M., son of former club member Pam M. Each student was asked to read their essay. The student sponsored by Carole had a particularly touching one that brought many members to tears. (We also received a thank you email from a recipient that was not able to attend)
Thank you to our chair Rich and the committee for implementing the scholarship program and organizing this luncheon. Thank you also to Rich and Carole for directly sponsoring two of the scholarships.
Missed the last GAM? You can check it (or any past issue) out at
http://newbedfordma.clubwizard.com/NewsletterArchive.cfm
VISITORS AND GUESTS: Scholarship recipients and their families. And our good buddy, Charlie B.
The Next Time We Meet
August 13th – RESCHEDULED Monthly Board Meeting. 5:00 pm at Fire Systems, Inc. All invited.
August 14th – Lunch at the Wamsutta. Program TBA
UPCOMING EVENTS: What would you like to see at a Rotary meeting? Let us know.
August 21st – SAVE THE DATE – DISTRICT GOVERNOR VISIT. Lunch at the Wamsutta
Odds and Ends
INVITE FROM THE OFFICE OF SENATOR MARKEY
Rotary Club of New Bedford,
Senator Markey would like to invite you to his Green New Deal Town Hall on Wednesday, August 14 at Greater New Bedford Vocational Technical High School! Central to the Green New Deal resolution is ensuring a democratic, inclusive process for determining how we move forward as a nation, and the Senator wants to be sure everyone gets a chance to be a part of this discussion. As such, if you have any recommendations of other organization in New Bedford who would like an invitation, please let me know as I would be more than happy to follow up with them. Please let me know if any of your members plan on attending, or if you have any questions or suggestions of others to invite. I, along with my colleague Rory Clark can be reached at 617-565-8519. We look forward to seeing you there!
Best, Maddy
DATE: Wednesday, August 14th
TIME: 6:30pm – 8:00pm (Doors open at 6:00pm)
LOCATION: Greater New Bedford Vocational Technical High School
ADDRESS: 1121 Ashley Boulevard, New Bedford
RSVP: https://www.facebook.com/events/2358970791011330
SPECIAL INVITE FROM PRESIDENT JOHN
Downshifters started as a car club in Brooklyn with 9 guys in 1959. Our own President John founded Downshifter Clubs in Florida and right here in New England. He invites all New Bedford Rotarians (and potential Rotarians) to join the Downshifters Car Club of New England to celebrate their 60th Anniversary Celebration. Founding member Greg "Duke of Earl" Feminella will be up from Brooklyn as well as five cars from Florida. Entertainment includes "Voices in Time" and "Lip Sync Group" (Rumors say John is a member of this group.) It will be Sunday, August 18th at Freetown VFW, 89 Middleboro Road. Coffee and donuts start at 9 am and the cookout begins at noon. Potluck dishes and raffle items are welcome.
PAW SOX ROTARY DAY FOR POLIO
Every year the Pawtucket Red Sox help support Rotary International's Polio Relief Efforts by having a Rotary theme night. Join the clubs in the district on August 29th as they march onto the field for the National Anthem and the First Pitch. Then enjoy the game. Tickets are only $12 which includes a Rotary Box Seat Ticket and a $4 free ballpark credit. Game starts at 7:05 pm. If you are interested please contact Jim Cain at jcain@pawsox.com or 401-721-5171 to make reservations. Remember, a portion of the proceeds will go to the Rotary International Endowment fund. A fun night every year, and with the Paw Sox moving to Worcester, this will be one of the last times it will happen so close. To join the opening festivities on the field, get there early and line up outside on the first base side of the park (Gate C?). Feel free to bring the club banner and represent.
HOW DO I DO A MAKEUP?
Some folks have asked how to improve their attendance if they miss the Wednesday meeting. Here is a list. (Generally makeups "expire" after a month)
1. Check out other local club meetings. Dartmouth has night meetings on Thursdays (I think). Fall River does lunch on Thursday at White's of Westport. Not sure what Fairhaven is doing these days. Most can be contacted through their Facebook pages or websites.
2. You can do make ups online https://www.rotaryeclubone.org/makeups/howtodoamakeup/. When you get to this page https://www.rotaryeclubone.org/makeups/articles/ click on date of one that interests you and follow the instructions.
3. You can stop into our own club's monthly board meetings. (Generally the first Tuesday at 5 at FSI in Dartmouth. Address in the GAM)
4. Participate on the club's committees.
5. Assist with RotaFest or Breakfast with Santa or other events (Sell tickets, find auction items, etc.)
6. District events are an option as well. (See the GAM for those as well)
7. Traveling? Visit a club meeting in the town wherever you are. Club meetings are even held on cruise ships and at Walt Disney World. We may even have a banner for you to exchange.
DISTRICT AND RI REMINDERS (if you are interested in attending any of these, please ask a board member for more information as some events the club will sponsor members to attend)
- PAW SOX ROTARY DAY FOR POLIO, Pawtucket, RI, August 29, 2019. For Tickets contact Jim Cain at jcain@pawsox.com
- ZONE INSTITUTE, Niagra Falls, Canada, September 17-22, 2019
- RLI SEMINAR - District 7930, October 5th 2019, Wakefield, MA https://rlinea.org/ The Rotary Leadership Institute (RLI) is a multi-district, grassroots leadership development program. All members are welcome.
- WORLD POLIO DAY, October 24, 2019
- VIBRANT CLUB WORKSHOP, White's of Westport, October 26, 2019
- P-BRUINS ROTARY DAY FOR POLIO, Providence, RI, November TBA
- FOUNDATION DINNER, White's of Westport, November 14, 2019
- RLI SEMINAR - Districts 7910, 7930, 7950, January 25th 2020, Marlborough, MA https://rlinea.org/ The Rotary Leadership Institute (RLI) is a multi-district, grassroots leadership development program. All members are welcome.
- DISTRICT 7950 MID YEAR MEETING, Presidents and Presidents Elect, White's of Westport, February 8, 2020
- NORTHEAST PETS, Presidents Elect & AGs, Sheraton, Framingham, MA, March 5-7, 2020
- INTERNATIONAL NIGHT, Celebration of Youth Exchange, White's of Westport, April 6, 2020
- DISTRICT ASSEMBLY, Secretaries, Treasurers, All Rotarians, White's of Westport, April TBA 2020
- DISTRICT CONFERENCE, Cape Codder, Hyannis, May 1-3, 2020
- ROTARY YOUTH LEADERSHIP AWARDS (RYLA), Sea Camps, Brewster, May 16-18
- ROTARY INTERNATIONAL WORLDWIDE CONVENTION, Honolulu, Hawaii, June 6-10, 2020 https://www.riconvention.org/en
- INSTALLATION OF DG CHARLENE JAREST, location TBD, June 26, 2020
NEW BEDFORD ROTARY ON SOCIAL MEDIA
Don't forget to Like, Follow and whatever else folks do with pages they like on Facebook. Check us out at www.facebook.com/Rotary-Club-of-New-Bedford-157486620934253/
One More Thing – An Orren Classic – From his 1939 edition of "10,000 Jokes, Toasts and Stories"
Professor to student - "How did you enjoy the geology lecture?"
Student - "Just fine, I was rocked to sleep!"
Rich M.
GAM Contributor
Michelle L-O.
GAM Contributor
Peter A
GAM Editor