The Rotary Club of New Bedford was chartered in 1921.
Rotary Club of New Bedford 1991 - Our 70th Anniversary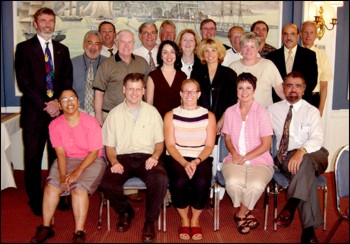 Editors note: The following document was prepared by David Salk, for the 70th Anniversary of the formation of the Rotary Club of New Bedford, in 1991. David had been a member of this Rotary Club for 35 years at that time, and had perfect attendance (not missing even one meeting) since joining in 1956. David Salk died in 2002.
Rotary International was founded in 1905 by a Chicago lawyer named Paul Harris.
The New Bedford Rotary Club was sponsored by the Fall River Club in October 1921.
At one time we had a membership between 120 and 125 men. Our first meeting was in the (now defunct) New Bedford Hotel, just north of the downtown Post Office. It now houses senior citizens.
For many years the "milk bottle" was passed around for funds. This went for children from poor families to get milk.
This year marks 60 years for Kim White, now an Honorary Life Member.
About forty years ago the club sponsored an automobile show. At our weekly meetings song books with Rotary lyrics were passed out to the members. One or two songs were sung each week. Also at our meetings a brief news summary was presented by one of our designated members who went to The Standard-Times and came back with the latest report.
(Before I continue with remarks about our Club's past, allow me to tell you that I searched the deep recesses of my mind for some of the historical facts and trivia. Furthermore, these are not necessarily in chronological order.)
We ran a radio auction on WNBH.
The 4-Way Test, which we recite each week, has great significance for its philosophy. It was copyrighted by Rotary International in 1946. A past Rotary International president whose name was Herbert Taylor, authorized this test. Incidentally, he spoke to a gathering of members from the Fall River and New Bedford Clubs at Lincoln Park in 1996.
Our Club sponsored three new clubs: Dartmouth, Nantucket and Fairhaven.
Some of our members learned a lesson in animal husbandry. We got involved in what was known as the Heifer Project. Members of the club would help raise sheep at a temporary farm set-up. This was on land belonging to the Interchurch Council in Dartmouth. Teams of two of our members would feed the animals early in the morning and late afternoons. After a week or so the sheep would then be sent to some poor South American country and there would be given to indigent people. This would give them a start in raising a herd.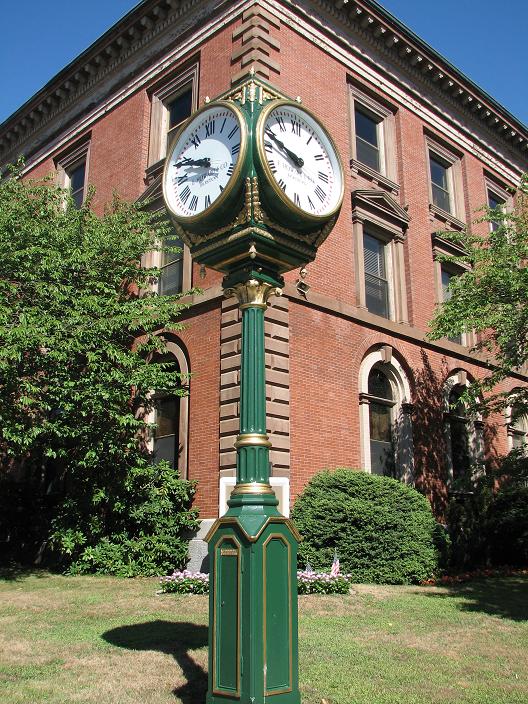 It was traditional for many years that our meetings were opened and closed by a clang on the bell. There was a question as to the month our club was chartered. If we still had the bell today that was presented to us by the Fall River Club we would certainly know by the inscription thereon as to the correct date. Also, today, we would probably be hearing the resonant sound on the beautiful brass bell that mysteriously disappeared a few years back.
Some of our regular meeting places, other than the New Bedford Hotel, were held at Thad's Restaurant, Louie's on the Wharf, Twin Piers and Yesterday's Restaurant. (In 1991we were meeting at the Wamsutta Club.)
It may interest you to know of some of our one day jaunts or meetings:
1. Bristol County House of Correction. (good meal)
2. Quaker Oats Plant – not in the City anymore.
3. Fort Tabor, which is an enclave of Fort Rodman. This fort was designed by Confederate General Lee. We had a box lunch that day.
4. N. B. Gas and Edison Light Company. (Now COM Gas and Electric)
5. The Auction House at fish pier. (no meal)
6. The Whaling Museum
7. The Y.M.C.A.
8. Dennison Memorial Club for Boys
9. S.M.U.
10. Channel 6 when it first began in New Bedford.
11. USS Massachusetts in Fall River Cove.
12. The Continental Screw Company (not here anymore)
13. Chamberlain Manufacturing Co.
14. St. Luke's Hospital
15. The Standard-Times Plant (with subsidized meal)
16. N. B. Country Club
17. Vocational High School
18. Hetland Skating Rink
19. We had breakfast here at the Wamsutta Club and at Thad's.
20. Of course, The Salvation Army.
21. We went on a guided walking tour of the Historic District of the City.
22. The Boy's Club

Many moons ago we had bowling teams for our members and spouses for whomever chose to bowl. At the end of the season trophies would be awarded at a banquet for the bowlers. Where do you think the bowling alleys were? Downstairs at the Wamsutta Club.
Continuing with Rotary historical facts:
We had lunch with the Federally funded Job Corps at Fort Rodman. There was a plethora of good food (some wasted!!) In the past years we had prominent national and local speakers such as one of the early astronauts. (Cannot recall his name) Of course, he flew in by plane.
From the political field we had former Governors Sargent and Volpe, Senator Kennedy and Rep. Studds and many local and state political aspirants. In the world of sports, we had Bill Sullivan Sr. At that time he was in the process of organizing the Patriots. From the basketball court we had former Celtic stars Bob Cousy and Tom Heinsohn: and from the wrestling arena, Killer Kowalski held our attention.
Now, looking at the other side of the coin:
We sponsored an air show. We had a shuttle from downtown to the airport. If we could have covered the sky away from the airfield and blocked off the adjacent streets, we would have realized more money.
Our Club go the Boy's Town Choir for a performance. The Tri-Town Band put on a concert under the auspices of our Club, too.
Some of our dapper members acted as models in a style show. In 1976 the Portuguese Consul, Dr. Francisco DeSilva spoke to us.
It may interest you to know that four Past Rotary District Governors came from the N.B. Club. They were Milton Burghardt, Herschel Heinz, Kim White and Alan Woodacre.
We had many enjoyable parties which included a trip to Westport at a place called The Fireside, and to MeLing's Chinese Restaurant in Mattapoisett, which belonged to the late George Yen, who was a member of our Club.
At State Pier we ran a food concession in conjunction with the Blessing of the Fleet.
We also had a program in which we welcomed the newly naturalized citizens, and the speaker was, I believe, Judge Taveira. Later, members of our club, as a good-will gesture, were assigned to visit the residences of these new Americans. Personally, I clearly remember my visitation. It was a cold, blustery night in February. Upon entering the home of this family, an atmosphere of euphoria prevailed. The offered me imported Madeira wine which hit the spot. I guess I looked as if I needed it!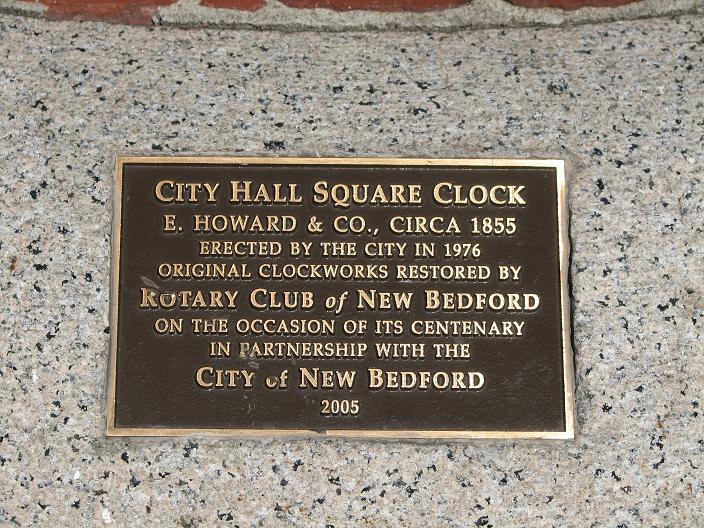 Over the years we had many interesting programs. One of our Past Presidents put on a wine tasting session. Another outstanding program was the incredible display of metamorphosis with the use of natural gas. We contributed a goodly sum of money to the Schwartz Rehabilitation Center. And also, we gave sizeable funds which helped to purchase vans for the Salvation Army and also a Dartmouth group. These vehicles were used to transport people with medical problems to hospitals or clinics, usually out of town.
We had a stand of miniature flags which represented practically all of the countries where Rotary was present. This was put on display at every meeting on the head table.
If my memory serves me right, I believe that we purchased equipment that was badly needed at St. Luke's Hospital.
As far as money raising projects go, you name it – we had raffled for cash or merchandise. We also sold electric light bulbs and umbrellas, and held an auction or two.
Once a year our Rotary District organized a get-together, strictly for fun and recreation. This was held in the mountains at a hotel in Whitefield, N.H.
In 1973 the Rotary International President, whose name was Mr. McCarthy and who hailed from England, paid a visit in the presence of more than 500 Rotarians from S.E. Mass and nearby Rhode Island. This event was held at the Venus DeMilo in Swansea.
The program honoring retiring teachers began about twenty years ago. This involved retirees from Acushnet, Dartmouth and Fairhaven as well as New Bedford.
For many years, Brad Eslinger, who was a masseur at the YMCA, played the piano until it was time for our program to begin at 1 pm. At that time he was given a $5.00 bill which we know he put to good use.
Speaking of the "Y" – we had a clambake at their Camp Massasoit.
Here are tidbits of Rotarians of the past and present:
In 1944 Kim White had the distinct pleasure of meeting Paul Harris, the founder of Rotary.
Rotarian Jack Gould was a prime mover in making the Council on Aging what it is today.
In 1974 Doc Goodwin received a 39-year pin. It may interest you to know that he delivered about 10,000 babies into this world.
Rotarian Ed Wlodyka, who was a football star at Alabama University, acted as a chief cook at our cook-out which was held in Padanaram.
Did you know that Reverend Bill Fairman was secretary of the Club in the early '70's?
Another good Rotarian was Reverend Sydney Adams, who did an incredible amount of work for the Interchurch Council for which they have not forgotten to this day.
And did you know that in 1979 George St. Aubin planned a trip for our Club to go to New York to see the Red Sox play the Yankees?
Oh yes, we did have a meeting aboard the excursion boat while we cruised the harbor.
It is a coincidence that the Charles W. Morgan whaling schooner, originally from New Bedford, is in its 7th year as a whaling ship.
We had a program with a professional tea taster.
A few young ladies gave us a lesson in aerobics.
We took part in an event at Buttonwood Park and Brooklawn Park.
For many years the back of the GAM was a blank space. Upon the suggestion of "Yours Truly", to help defray the cost of printing and mailing, the idea was to solicit ads. Now you find something extra and interesting to read.
As this is our 70th year, we should be proud of being an important part in running the Special Olympics.
Here is a believe-it-or-not tale: About 25 years ago a Rotary District in India dispatched a batch of correspondence to a Rotary Club in another township. Quite a period of time elapsed. The Club had not received the mail. Upon tracing the route the courier took through the jungle, it was found that a hungry tiger ate the courier and the mail. I guess there is a moral to this tale – please don't let our records go astray.
P.S. This item appeared in the Rotarian Magazine.
Finally, in closing, let me say "Thank You" for listening to me for the past few weeks. Happy 70th Anniversary to our Rotary Club.
Compiled by the best of my knowledge, David Salk.