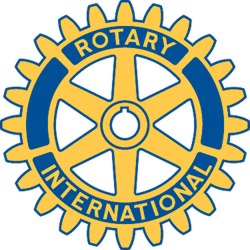 Rotary Club of New Bedford, MA - Weekly GAM
GAM...A nautical term describing the exchange of news between vessels departing from and returning to their ports...
September 11, 2019
The Last Time We Met
At our Sept. 11, 2019 meeting, Beverly Rousseau from Connecting the Dots was our special guest speaker. The organization is dedicated to leaving future generations with a world balanced in compassion, accountability and justice. They are hosting a Meet and Greet Thursday, Sept. 26 at Century House in Acushnet. For more information about the organization and the event, visit www.connectingthedots-dream.org.
Missed the last GAM? You can check it (or any past issue) out at
http://newbedfordma.clubwizard.com/NewsletterArchive.cfm
The Next Time We Meet
September 18th – Lunch at the Wamsutta. Program TBA.
UPCOMING EVENTS: What would you like to see at a Rotary meeting? Let us know.
September 25th – Lunch at the Wamsutta. OVERNIGHT BAG PROJECT – we will be filling overnight bags to be donated to Child and Family Services.
October 1st – Monthly Board Meeting. 5:00 pm at Fire Systems, Inc. All invited
October 2nd – Lunch at the Wamsutta. Program TBA.
October 14th - Annual Chowder Festival. Noon to 5pm, Pier 3 – See article below
Odds and Ends
NEWEST GAM "STAFFER"
The Editorial department of the GAM would like to welcome new member Sandy B to our merry band of intrepid reporters (too much?). Sandy will be assisting with the writing duties of the GAM starting with the article at top of this edition. We thank her for her service. (A note in case you missed it: Rotary tradition says members should call each other by their first name in Rotary settings, indicating equality among Rotarians)
NEED YOUR HELP
We are looking for your help for a new community outreach project. PP Cheryl is recruiting volunteers to help out at the annual Southcoast Chamber ChowderFest. Our goal is to provide a higher profile to Rotary while helping in the community. We are looking for 4-5 Rotarians to work for 1.5 to 2 hours and then are welcome to go and enjoy the event. The work will be tickets, wrist bands and (maybe) checking ID's. The event is Sunday, October 13, Noon to 5pm (tasting ends at 3) at City Pier 3, NB. Please let Cheryl know ASAP if you are able to help.
NOTES FROM OUR FAVORITE DGE CHARLENE
Hello! We are hard at work putting the finishing touches on our Vibrant Club Workshop! I am hoping that all our clubs send a good contingent to this valuable learning opportunity, on October 26. I would also like to put in a plug for the Membership Learning Opportunity which will take place on September 28, at the Fairhaven Senior Center. I am sure that you have received a flyer about that. (EDITORIAL NOTE: It was in last week's GAM and the link is in DISTRICT REMINDERS below) One of the reasons that I am so excited about that opportunity is that there is a special track for newer Rotarians. That track is designed to help newer Rotarians understand the avenues of service and how they support each other. Because Rotary is 114 years old, it has evolved into a rather sophisticated service organization. It can take a Rotarian many years before they really 'get it!' This opportunity will speed it up, tremendously. When Rotarians really understand how it all works, and works together, they become Rotarians for Life!!
Yours in Rotary Service, Charlene
Charlene J. Jarest, D.G.E.
District 7950
Rotary International
BOARD NOTES
We held our monthly board meeting (that you know everyone is welcome to attend). The board would like to announce that the club be donating to hurricane relief efforts for the Bahamas, Carolinas and Halifax. We are determining which agency/charity would benefit the most from the donation.
BAG FILLING AT END OF MONTH – Please attend 9/25 Meeting
There will be a slight change to our annual bag filling project. Instead of school bags, we will be putting together overnight bags for children being taken into protective custody. We need as many people as possible to fill the bags as quickly as possible. Feel free to bring coworkers, friends and family to help and get them a free lunch. If you'd like to help more with the project please contact Carole. Child and Family Services will be receiving the bags.
DISTRICT AND RI REMINDERS (if you are interested in attending any of these, please ask a board member for more information as some events the club will sponsor members to attend)
- ZONE INSTITUTE, Niagara Falls, Canada, September 17-22, 2019 https://portal.clubrunner.ca/50077/sitepage/2019-niagara-conference
- GETTING & KEEPING NEW MEMBERS: SPECIAL DISTRICT EVENT, September 28, 2019, Fairhaven Senior Center, 8:30 am 2:30 pm http://www.tinyurl.com/2019TwoFer
- RLI SEMINAR - District 7930, October 5th 2019, Wakefield, MA https://rlinea.org/ The Rotary Leadership Institute (RLI) is a multi-district, grassroots leadership development program. All members are welcome.
- WORLD POLIO DAY, October 24, 2019
- VIBRANT CLUB WORKSHOP, White's of Westport, October 26, 2019
- P-BRUINS ROTARY DAY FOR POLIO, Providence, RI, November TBA
- FOUNDATION DINNER, White's of Westport, November 14, 2019
- RLI SEMINAR - Districts 7910, 7930, 7950, January 25th 2020, Marlborough, MA https://rlinea.org/ The Rotary Leadership Institute (RLI) is a multi-district, grassroots leadership development program. All members are welcome.
- DISTRICT 7950 MID YEAR MEETING, Presidents and Presidents Elect, White's of Westport, February 8, 2020
- NORTHEAST PETS, Presidents Elect & AGs, Sheraton, Framingham, MA, March 5-7, 2020
- INTERNATIONAL NIGHT, Celebration of Youth Exchange, White's of Westport, April 6, 2020
- DISTRICT ASSEMBLY, Secretaries, Treasurers, All Rotarians, White's of Westport, April TBA 2020
- DISTRICT CONFERENCE, Cape Codder, Hyannis, May 1-3, 2020
- ROTARY YOUTH LEADERSHIP AWARDS (RYLA), Sea Camps, Brewster, May 16-18
- ROTARY INTERNATIONAL WORLDWIDE CONVENTION, Honolulu, Hawaii, June 6-10, 2020 https://www.riconvention.org/en
- INSTALLATION OF DG CHARLENE JAREST, White's of Westport, June 26, 2020 In combination with the Rotary Club of Fall River Installation. Our good friend Charlene would love to see us there.
NEW BEDFORD ROTARY ON SOCIAL MEDIA
Don't forget to Like, Follow and whatever else folks do with pages they like on Facebook. Check us out at www.facebook.com/Rotary-Club-of-New-Bedford-157486620934253/
Sandy B.
GAM Contributor
Cheryl B.
GAM Contributor
Charlene J.
GAM Contributor
Peter A
GAM Editor