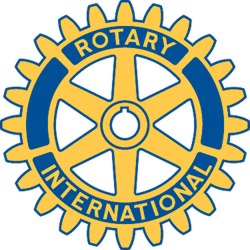 Rotary Club of New Bedford, MA - Weekly GAM
GAM...A nautical term describing the exchange of news between vessels departing from and returning to their ports...
July 17, 2019
The Last Time We Met
This week was our Installation of Officers Ceremony which was held at Wamsutta Club. PP Cheryl hosted the event with her usual grace and charm. Outgoing President Carole kept it brief but wanted to be sure everyone knew how thankful she was of all the club support. District Governor Elect Charlene helped honor Rich as a major donor to the Rotary Endowment. Rich then honored three club members for all their work with Rotary with Paul Harris Fellowships. The very deserving recipients were Cheryl, Linda and Mark. After the swearing in of officers, ably performed by Cheryl, DGE Charlene returned to give the charge to all the club members for the upcoming year. Finally, new President John spoke from the heart about the club and Rotary, inspiring us for a new year. Congratulations to John and let's all get behind him to support her for another great year!!!
Missed the last GAM? You can check it (or any past issue) out at
http://newbedfordma.clubwizard.com/NewsletterArchive.cfm
VISITORS AND GUESTS: Several spouses and S.O.'s including the new First Lady Linda Remedis, DGE Charlene Charest, Prospective member Roger William
The Next Time We Meet
July 24th – Lunch at the Wamsutta. Program TBA
UPCOMING EVENTS: What would you like to see at a Rotary meeting? Let us know.
July 31st – Lunch at the Wamsutta. Program TBA
August 6th – Monthly Board Meeting. 5:00 pm at Fire Systems, Inc. All invited.
August 7th – SAVE THE DATE - SCHOLARSHIP LUNCHEON. Lunch at the Wamsutta. Please RSVP to Michelle by July 28th.
August 14th – Lunch at the Wamsutta. Program TBA
August 21st – SAVE THE DATE – DISTRICT GOVERNOR VISIT. Lunch at the Wamsutta
Odds and Ends
WELCOME TO OUR NEWEST MEMBER
The board would like to officially welcome Sandy Quadros Bowles as our newest member. We will be inducting her at an upcoming meeting.
NEW PROSPECTIVE MEMBER
Roger Williams, Financial Planner, has shown an interest in becoming a member. He has been to a few meetings and we are hoping he will fill out an application.
HOW DO I DO A MAKEUP?
Some folks have asked how to improve their attendance if they miss the Wednesday meeting. Here is a list. (Generally makeups "expire" after a month)
1. Check out other local club meetings. Dartmouth has night meetings on Thursdays(I think). Fall River does lunch on Thursday at White's of Westport. Not sure what Fairhaven is doing these days. Most can be contacted through their Facebook pages or websites.
2. You can do make ups online https://www.rotaryeclubone.org/makeups/howtodoamakeup/. When you get to this page https://www.rotaryeclubone.org/makeups/articles/ click on date of one that interests you and follow the instructions.
3. You can stop into our own club's monthly board meetings. (Generally the first Tuesday at 5 at FSI in Dartmouth. Address in the GAM)
4. Participate on the club's committees.
5. Assist with RotaFest or Breakfast with Santa or other events (Sell tickets, find auction items, etc.)
6. District events are an option as well. (See the GAM for those as well)
7. Traveling? Visit a club meeting in the town wherever you are. Club meetings are even held on cruise ships and at Walt Disney World. We may even have a banner for you to exchange.
DISTRICT AND RI REMINDERS (if you are interested in attending any of these, please ask a board member for more information as some events the club will sponsor members to attend)
- PAW SOX ROTARY DAY FOR POLIO, Pawtucket, RI, August 29, 2018
- WORLD POLIO DAY, October 24, 2019
- P-BRUINS ROTARY DAY FOR POLIO Providence, RI, Usually November??
- RLI Seminar - Dist 7930, October 5th 2019, Wakefield, MA https://rlinea.org/ The Rotary Leadership Institute (RLI) is a multi-district, grassroots leadership development program.
NEW BEDFORD ROTARY ON SOCIAL MEDIA
Don't forget to Like, Follow and whatever else folks do with pages they like on Facebook. Check us out at www.facebook.com/Rotary-Club-of-New-Bedford-157486620934253/
One More Thing – An Orren Classic
What good did it do to be grouchy today?
Did your surliness drive any trouble away?
Did you cover more ground than you usually do, because of the grouch you carried with you?
If not, what's the use of a grouch or a frown, if it won't smooth a path, or a grim trouble down?
If it doesn't assist you, it isn't worthwhile.
Your work may be hard, but just do it - and smile!
Peter A
GAM Editor