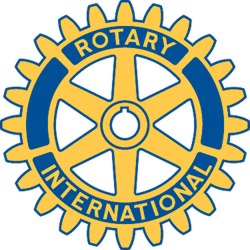 Rotary Club of New Bedford, MA - Weekly GAM
GAM...A nautical term describing the exchange of news between vessels departing from and returning to their ports...
February 12, 2020
The Last Time We Met
Missed a few GAM's this year. Can I blame the printing presses? What? You say we don't have printing presses. What kind of paper is this? World Wide What? Interwebs who?
Anywho, a bit has happened since the last one. We had lunch at a possible new venue for RotaFest. We had a lunch where we discussed RotaFest (See below for info). We had lunch mix-up but it got figured out. We had lunch with a star of stage and screen, and you missed it. (ok, the last one isn't true)
Most recently, our lunch program guest speaker was Robert "Bob" Branco. A lifelong New Bedford resident, you might recognize him from his sports radio show that had aired on WBSM and he currently podcasts (or as a frequent caller to Phil's show). As a longtime advocate for the blind, he invited us to a seminar he is holding to promote blind workers in the workplace. He is gathering local business owners, agencies for the blind and blind job seekers. It will include some of the latest technology available to assist blind workers. Let us know you would like more information. We didn't even hold it against him he knew Carole.
Missed the last GAM? You can check it (or any past issue) out at
http://newbedfordma.clubwizard.com/NewsletterArchive.cfm
VISITORS AND GUESTS: Guest Speaker Robert Branco, local author and advocate for the blind.
The Next Time We Meet
February 19th – Lunch at the Wamsutta. Guest Speaker will be Josh Smith from "My Brother's Keeper", a Christian Ministry who takes furniture and gives it to needy.
UPCOMING EVENTS: What would you like to see at a Rotary meeting? Let us know.
February 26th – Lunch at the Wamsutta. Program TBD
March 3rd – Monthly Board Meeting. FSI, 955 Reed Rd, North Dartmouth, 5:00 pm. All welcome
March 4th – No meeting
March 5th – Salvation Army Volunteer Luncheon. Please RSVP to Prez John. Information below.
March 11th – Lunch at the Wamsutta. Program TBD
May 7th – SAVE THE DATE – ROTAFEST 2020. Information below.
Odds and Ends
BOARD NOTES
Sorry to report that the board accepted the resignation from Tom Riley. We thank him for his service and welcome his return anytime. In addition to being a jolly Santa "contact", Tom is also a Past President of the club and a James West Fellow. We wish Tom the best in his retirement.
ROTAFEST 2020 – May 7, 2020 (Our Biggest Fundraiser)
The date has been chosen (May 7, 2020). The location has been chosen (The recently renovated Whaler Inn and Suites Banquet & Conference Center). Cheryl will be sending out information on sponsorships. Pricing will be the same as last year.
Gold Sponsor $1,000 (includes 20 tickets)
Silver Sponsor $500 (includes 10 tickets)
Bronze Sponsor $300 (includes 6 tickets)
Please consider asking a local business for getting a sponsorship.
Once the sponsorships start coming in, Marc has agreed to lead the effort to get restaurants. If you head out to eat this Valentines' day, consider asking that restaurant to join us for this great event.
SALVATION ARMY VOLUNTEER LUNCHEON
The Salvation Army volunteer luncheon on will be on Thursday, March 5, 2020 at the Salvation Army headquarters on 619 Purchase St. Please arrive at 11:45 a.m. Lunch will be served promptly at 12:00 noon. Meeting on Wednesday March 4th will be cancelled. Please RSVP to President John so we can give them a head count by 2/28.
DUES DUE
Lisa has been handing out bills for dues at recent meeting. Please see her if you haven't recived yours yet. They are due by February 28.
DISTRICT AND RI REMINDERS (if you are interested in attending any of these, please ask a board member for more information as some events the club will sponsor members to attend)
- NORTHEAST PETS, Presidents Elect & AGs, Sheraton, Framingham, MA, March 5-7, 2020
- INTERNATIONAL NIGHT, Celebration of Youth Exchange, White's of Westport, April 6, 2020
- DISTRICT ASSEMBLY, Secretaries, Treasurers, All Rotarians, White's of Westport, April TBA 2020
- DISTRICT CONFERENCE, Cape Codder, Hyannis, May 1-3, 2020
- ROTARY YOUTH LEADERSHIP AWARDS (RYLA), Sea Camps, Brewster, May 16-18
- ROTARY INTERNATIONAL WORLDWIDE CONVENTION, Honolulu, Hawaii, June 6-10, 2020 https://www.riconvention.org/en
- INSTALLATION OF DG CHARLENE JAREST, White's of Westport, June 26, 2020 In combination with the Rotary Club of Fall River Installation. Our good friend Charlene would love to see us there.
NEW BEDFORD ROTARY ON SOCIAL MEDIA
Don't forget to Like, Follow and whatever else folks do with pages they like on Facebook. Check us out at www.facebook.com/Rotary-Club-of-New-Bedford-157486620934253/
One More Thing – An Orren Classic
In the words of General Douglas MacArthur: "In the central place of every heart there is a recording chamber. So long as it receives messages of hope, beauty, cheer and courage, so long are you young. When the wires are all down and your heart is covered with the snows of pessimism and the ice of cynicism, then and only then, are you grown old."
Peter A
GAM Editor