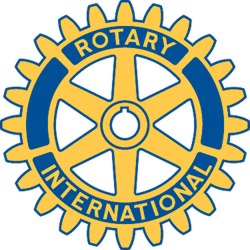 Rotary Club of New Bedford, MA - Weekly GAM
GAM...A nautical term describing the exchange of news between vessels departing from and returning to their ports...
May 7, 2020
(Maybe? Hard to keep track these days)
Happy RotaFest 2020
Well, today would have been our annual RotaFest event. We hope this day finds you and your family safe and secure during these uncertain times. The mission of Rotary "Service Above Self" has become a shared motto with Rotarians and non-Rotarians worldwide these days. We would like to take this time to thank all the essential workers that continue to risk their health and the health of their families to care for the sick, keep much needed services running and protect our community. We plan to have Rotary return once it safe to do so and we will need everyone's help. We should take the time to recognize those we who are Rotarian in spirit as well.
In the meantime, we are looking for ways to continue our mission during these unprecedented times. I hope you enjoy this Gam where I have tried to keep the tradition of infusing it will a little humor. (A very little bit as I'm still using Orren's jokes.) Lots of information below, so please check it all out. Stay safe everyone and let us know if you need help.
The Last Time We Met
Remember meetings? Bet you miss those. Bet you wish you took the time to go to more of them.
Back on 2/19 we had Josh Smith from My Brother's Keeper. My Brother's Keeper serves families in crisis… parents and children eating and sleeping on the floor. They can respond with everything needed to furnish a bare apartment: beds, cribs, dressers, refrigerators, kitchen sets, and living room sets as well as important household items like dishes, pots, pans, blankets, sheets, and towels. They obtain these items through a combination of residential and commercial donations and supplement with purchases as needed. If you want to donate furniture or a financial gift, check out their website at https://mybrotherskeeper.org/
Then on 3/5, we participated in the annual Volunteer Recognition Lunch at the Salvation Army. It was a bit smaller this year due to the start of social distancing. We are always happy to attend this event and enjoy all the work we do with the Salvation Army. Thank you Majors Jung for the invitation and we wish you great success with all your COVID and daily efforts. I'm sure you can reach out to help by going to their website at https://massachusetts.salvationarmy.org/MA/NewBedford
Missed the last GAM? You can check it (or any past issue) out at
http://newbedfordma.clubwizard.com/NewsletterArchive.cfm
VISITORS AND GUESTS: Haven't your heard about social distancing?
The Next Time We Meet
June 2nd – Virtual Board Meeting. 5:00 pm. All are welcome. Contact Michelle for the link.
UPCOMING EVENTS: What would you like to see at a Rotary meeting? Let us know.
WATCH THIS SPACE FOR UPDATES
Also, in 2021 the club will celebrate our 100th year. We are open to ideas for celebrating including but not limited to celebrations, increasing membership, getting the word out about Rotary, and impacting the community in big way. Your thoughts and help as always is appreciated.
Odds and Ends
BOARD NOTES
Sorry to report that the board accepted the resignation from Ellen Gitlin. While not leaving immediately she has stepped down from the board for next year. We thank her for her service and welcome her return anytime. In addition to being board, Ellen has chaired many committees including Membership and Ringing of the Bells. We wish Ellen the best in retirement.
OFFICERS AND BOARD 2020 – 2021
For those Gam readers currently not on the member's email chain we would like to announce the incoming (remaining and returning) officers and board
President John Remedis (first male to do a second term, I believe)
President-Elect Cheryl Barrett (will be the third female to be a second term president, just
sayin')
Vice President Michael Jung
Secretary Michelle Lapalme Oliver
Treasurer Lisa Faria
Immediate
Past President John Remedis (is that how this works or is it still Carole Johnson?)
Rotary Club Board of Directors:
Peter Ashworth
Paula Freitas
Carole Johnson
Rich Medicke
Sandy Quadros Bowles
Carl Soares
Linda Silveira
Community Foundation Board of Directors:
Linda Silveira
Rich Medicke
Committee Chairs:
Community Foundation: Linda Silveira
Membership: OPEN
Community Service: Michael Jung
Vocational Service: Rich Medicke
Fundraising: President Elect
RI Foundation: Carole Johnson
Publicity
/Public Relations: Sandy Quadros Bowles
Fellowship: Carl Soares
ROTAFEST 2020 – (Our Biggest Fundraiser)
RotaFest 2020 has been cancelled. We are looking into it returning in 2021. The board is looking into other ways to fundraise as well so we can continue to help the community. Help from the membership is greatly appreciated to come up with and carry out ideas.
ALLOCATIONS
The Allocations committee recommended, and the board approved a $1,000 donation to the United Way of Greater New Bedford for COVID-19 relief efforts. It is through our club members work on fundraising and their donations to club that we are able to support community efforts like this.
SCHOLARSHIPS
Rich and his committee are still accepting applications for this year's scholarship. The club is still looking anyone applying, please give them Rich's email so they can email their paperwork in. Deadline is May 29th. The committee will meet virtually to review them.
DISTRICT GRANT
We have the opportunity to once again apply for a District Grant. District Grant money comes from the dues we pay annually to the district. In the past, it has helped support school supply bags, "go bags" (last year's project) and a playground for the Bridge Home among other things. The club needs to match whatever is awarded to club for our chosen project. It also needs to be a "hands on" project like the ones listed above. Let us know if you have any thoughts. Please let Carole or Cheryl know if you have any ideas.
MEMBERSHIP
With Ellen stepping down, we hope other members take the time to consider people they know that share the Rotary's commitment to the community, here and abroad, and consider asking them to join us in our mission. In addition, when we resume normal activities, I'm sure some folks will be looking to socialize and no one is more social than a Rotarian.
DISTRICT AND RI REMINDERS (if you are interested in attending any of these, please ask a board member for more information as some events the club will sponsor members to attend)
The GAM happily yields this space to the District Governor Elect and a great friend of the Club, Charlene Jarest.
Hi! I'm glad to see that you are communicating with everyone! Are you also doing Zoom meetings? They are easy and clubs all over the District are doing them very successfully. (EDITORIAL NOTE: We are looking into it. Who out there is interested?)
Rotary Youth Leadership Awards (RYLA) has been postponed. We're trying to hold two next year. One in the fall and one in the spring. So, students still need to be identified by clubs. Clubs support the RYLA student experience. Candidates may be known to the club (no rule against relatives, etc.) - or identified through the schools. If you google RYLA, you will find a ton of information. It is a transformational program. What I like most about RYLA is that the number one student in the class is not the student that we look for in this program. The young person who is shy, or perhaps struggling in some way, is the ideal candidate. I mean it when I say it is "Transformational!" It's exciting to see kids reluctantly board the bus at the beginning of the weekend and come back strong, self-confident young people, when they return (EDITORIAL NOTE: If you know of a student that would be a candidate for RYLA, please contact Charlene. Information about RYLA can be found at https://www.rotary.org/en/our-programs/rotary-youth-leadership-awards)
Rotary International Convention will be virtual. You will all hear more about the details. (I'm really excited about this one because this will give folks who would never have the opportunity to go to an International Convention the opportunity to hear world-class speakers and be a part of a truly inspirational experience!!)
Installation - I need to have a meeting to address this, but clearly it will also be 'virtual.'
May 28 - "It's a New Day!" You will all hear more about this, but I have arranged to have incredible speakers address Membership, Foundation and Public Image, in an evening speaking program. 7-9 p.m. We will be promoting it to everyone. This too will be a Zoom experience. More to follow on that.
It is pretty clear that my visitation schedule will, at best, need to be postponed. I am really hopeful to see people, 'up close and personal,' at some time during the year. In the meantime, clubs are inviting me to their Zoom meetings and I am getting to know folks, that way.
I see this year as a transitional one for Rotary. And, I see my role, which I am embracing with enthusiasm, to be that of a Change Maker. Clearly, when we are on the other side of this pivot, we will all have skills that we did not have before - and, frankly, we will appeal to like-minded people who are more tech savvy and project-oriented. This can only be a good thing for Rotary! I am also encouraged by the reception that I have received in promoting this plan throughout the District.
So, that's what's new!! Thanks for asking!! Stay safe and well.
Warm regards,
Charlene
Charlene J. Jarest,
District Governor Elect
District 7950
Rotary International
DUES DUE
Lisa had been handing out bills for dues at recent meeting. Please contact her if you haven't received yours yet. They are due as the club already paid them at the beginning of the year. The next round will be due late June/ early July.
CORRECTION
In the last GAM (who remembers that far back) retiring member Tom Riley was identified as a James West fellow. While we can neither confirm nor deny that, it was supposed to be a Paul Harris Fellow. The James West is a Boy Scout Fellowship similar to the Paul Harris Fellowship. We apologize for the confusion.
NEW BEDFORD ROTARY ON SOCIAL MEDIA
Don't forget to Like, Follow and whatever else folks do with pages they like on Facebook. Check us out at www.facebook.com/Rotary-Club-of-New-Bedford-157486620934253/
One More Thing – An Orren Classic (in hopes of getting outdoors again)
Golf pro to learner - "Tee the ball."
Golfing lesson client - "Sure, I see it, but why the baby talk?"
Peter A
GAM Editor